I created a self hosted droplet procedure for smart time-series analytics
Start your embedded journey with this recipe of 15 docker containers including nmon, netdata, portainer, dozzle, grafana, prometheus, node-exporter, mqtt-exporter, cadvisor, uptime-kuma, traefik, mysql, phpmyadmin, redis, mongodb
LICENSE: MIT
Documentation: Project README.md
git clone git@github.com:nodejavascript/linux-setup-docker-clean-monitoring.git

Pay smarter.
Pay where the facts are.
Offload docker containers proven to require separation from cluster
Upgrade instances with CPU or memory if factually it's needed.
BONUS : Supports Tasmota metrics as seen here:
grafana monitoring tasmota metrics via mqtt-exporter and prometheus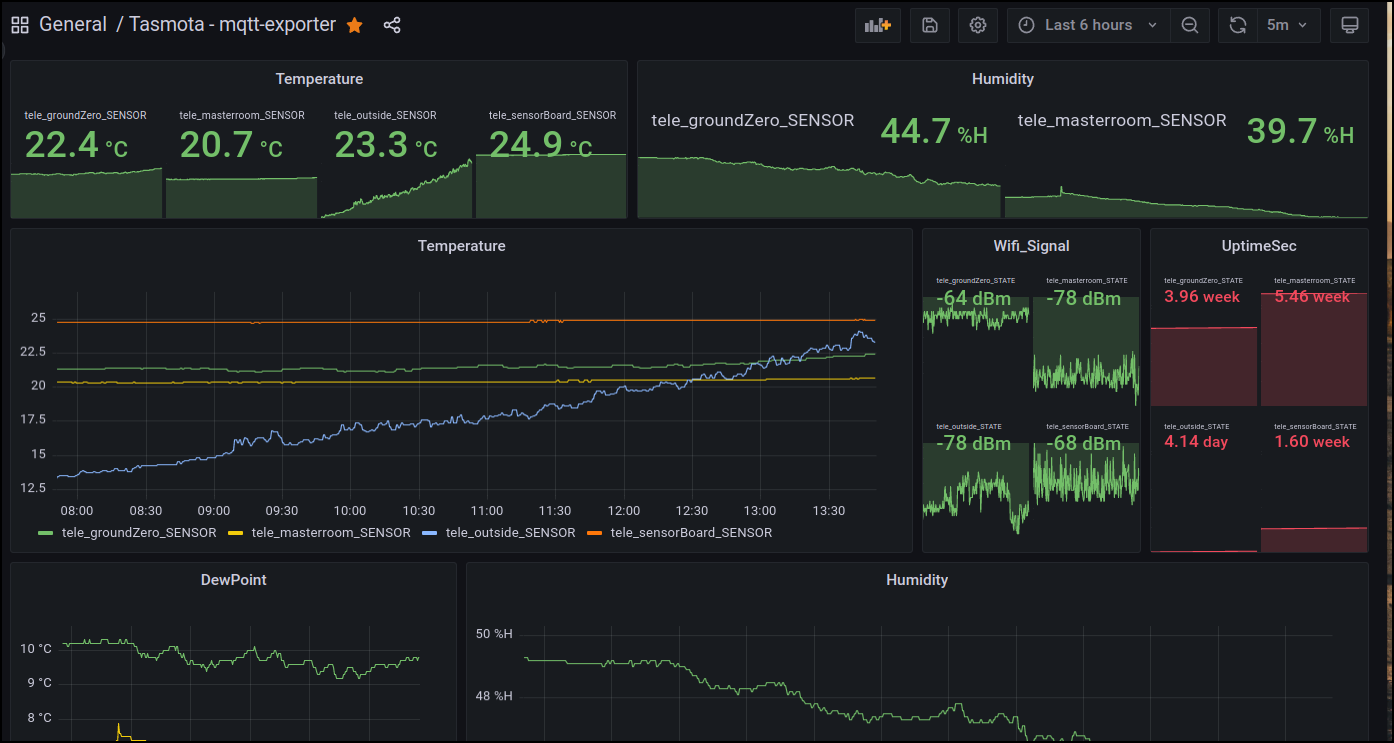 List of containers in docker-compose.yml
9000 : portainer
9999 : dozzle
3050 : grafana
9090 : prometheus
9100 : node-exporter
9001 : mqtt-exporter
8080 : cadvisor
3001 : uptime-kuma
80 : traefik
443 : traefik
3306 : mysql
8183 : phpmyadmin
6379 : redis
8081 : rediscommander
27017 : mongodb

cadvisor monitoring all docker listed in docker-compose.yml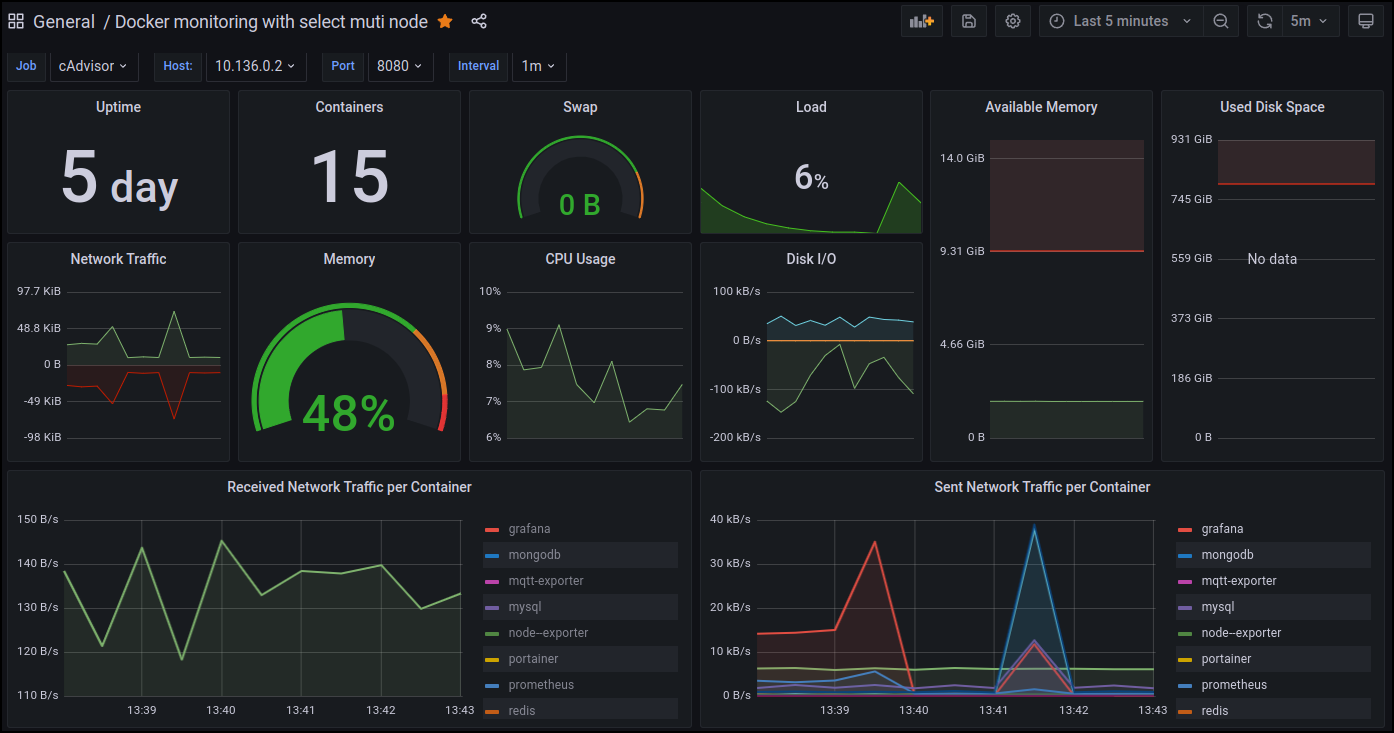 The following procedure will give you:
Reactive time-series charts from grafana to find anti-patterns and anomalies.

The server's 1) CPU, 2) memory, 3) network and 4) disk usage.

Each docker container's 1) CPU, 2) memory, 3) network and 4) disk usage.

Procedures to install ssh key, cloning repos, installing npm and n

Procedures to install treafik with multi-domain example.

Ports to open on your firewall.
Persistent monitored data:
Metrics history for server and each docker container

Find what

led to a crash
what scripts are taxing your resources
containers hogging docker resources
Self hosted integration.
ghost blog integrated with

traefik, pre-configured to server multiple domains names

mailgun SMTP, pre-configured to add your mailgun password.

mysql

phpmyadmin, to add database for ghost

mongodb because it's SO useful

redis, pre-configured with rediscommander.
Real-time health monitoring
Essentials:
nmon, the last resort command-line monitor you will need if your instance is very unhealthy (for example docker won't boot)
nmon monitoring server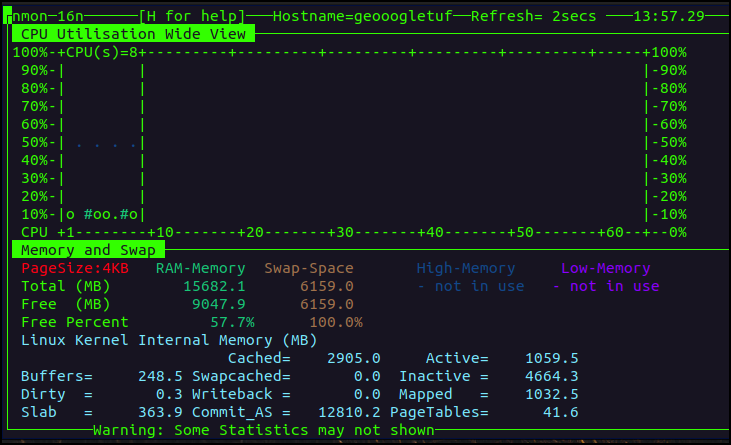 netdata, real-time granular metrics for watching:

installs,
script executions or,
real-time services.

netdata monitoring server


portainer, web interface for docker containers standard install

dozzle, real-time stdout for running docker containers
dozzle monitoring my MQTT Broker


Telemetry:
node-exporter monitoring server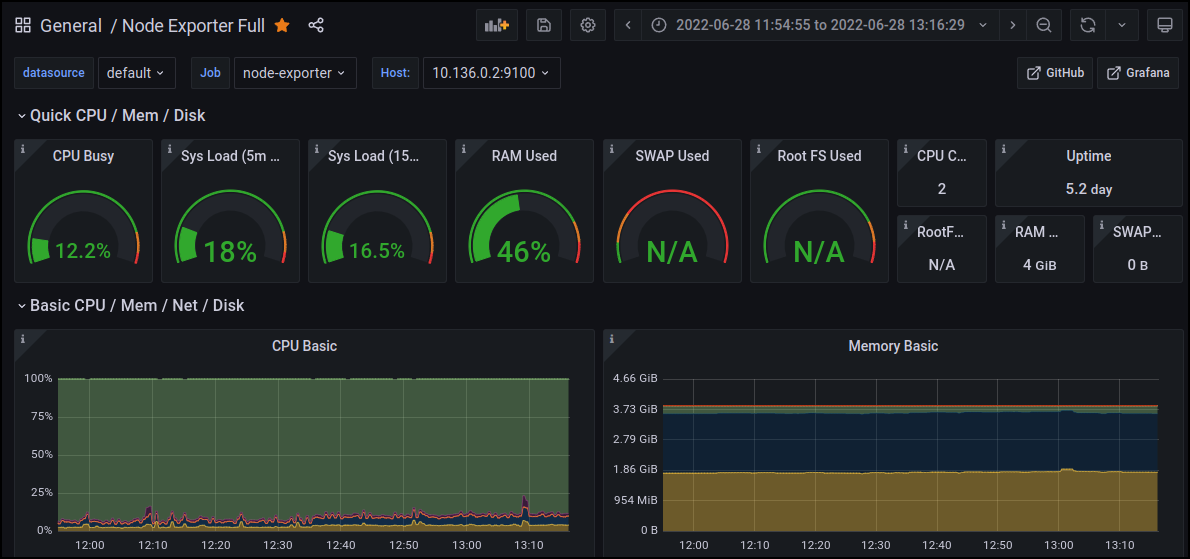 prometheus, pre-configured to send necessary metrics to Grafana for you.

prometheus, self metrics
node-exporter, provides server metrics
cadvisor, provides docker metrics
mqtt-exporter, provides embedded sensor metrics published to an MQTT broker like mine.
prometheus can scale to many prom-exporters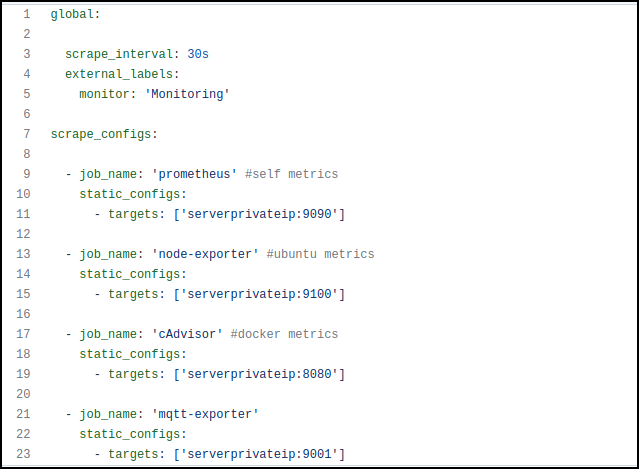 HAVE FUN!
See README.md for more details.
Contact